Our Town: A Play in Three Acts (Hardcover)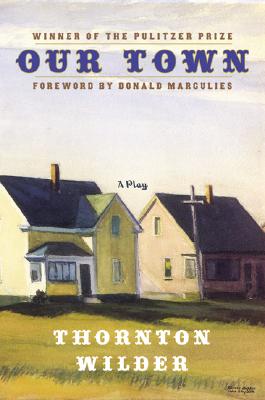 $21.00
Email or call for price.
Description
---
This beautiful hardcover edition features an eyeopening Afterword written by Tappan Wilder, Thornton Wilder's nephew, that includes Wilder's unpublished notes and other illuminating photographs and documentary material.
Our Town was first produced and published in 1938 to wide acclaim. This Pulitzer Prize-winning drama of life in the small village of Grover's Corners, an allegorical representation of all life, has become an American classic. It is Thornton Wilder's most renowned and most frequently performed play.
About the Author
---
Thornton Wilder (1897-1975) was an accomplished novelist and playwright whose works, exploring the connection between the commonplace and cosmic dimensions of human experience, continue to be read and produced around the world. His Bridge of San Luis Rey, one of seven novels, won the Pulitzer Prize in 1928, as did two of his four full-length dramas, Our Town (1938) and The Skin of Our Teeth (1943). Wilder's The Matchmaker was adapted as the musical Hello, Dolly!. He also enjoyed enormous success with many other forms of the written and spoken word, among them teaching, acting, the opera, and films. (His screenplay for Hitchcock's Shadow of Doubt [1943] remains a classic psycho-thriller to this day.) Wilder's many honors include the Gold Medal for Fiction from the American Academy of Arts and Letters, the Presidential Medal of Freedom, and the National Book Committee's Medal for Literature.
Praise For…
---
"Taking as his material three periods in the history of a placid New Hampshire town, Mr. Wilder has transmuted the simple events of human life into universal reverie. He has given familiar facts a deeply moving, philosophical perspective....Our Town is one of the finest achievements of the current stage." — Brooks Atkinson
"Its astringent distillation of life and death in the fictional early-20th-century town of Grover's Corners, N.H., is desperately needed. . . so Americans can remember who we are. . . . The true American faith endures in 'Our Town'." — Frank Rich, New York Times
"Wilder's unfashionable insistence on embracing wonders as well as woe is both gallant and exhilarating. . . .[Our Town] leaves us with a sense of blessing, and the unspoken but palpable command to achieve gratitude in what remains of our days on earth" — The New Yorker
"Our Town demonstrates in the most gentle way, the most celebrational way, how difficult it is to be a human being." — Will Eno, American playwright
"Our Town is probably the finest play ever written by an American." — Edward Albee
"In Our Town, [Wilder] cautions us to recognize that life is both precious and ordinary, and that these two fundamental truths are intimately connected." — New York Times